"I'm just not looking forward to today", he says between deep sighs. Bry is leaning against the sink in the kitchen, while I sit looking through the doorway, at the expansive dining room table, various pirate related material at my fingertips.
It is nine o'clock, the morning of Moira's fourth birthday. Between running around making last minute goodie bag additions, I am navigating my to-do list to the best of my ability. His words and the disgusted look on his face stop me dead in my tracks.
"What are you talking about?" I mutter, lifting my eyes from the gluing to the living room where the girls sit, their own eyes glued to the television. Gesturing to our daughter, I continue, "It's Mo's fourth birthday! How can you be anything but excited? She's thrilled!"
On cue, she focuses her attention to us and chimes in, "I'm so excited for my Pirate party today!".
"Me too, baby!" I squeal. "Me too!"
Putting the glue stick down, I shuffle hesitantly into the kitchen.
"You just don't get it" he starts, "You do all this shit. Plan this party for what, months? You're the freaking ring master here, while I get to be the labor. Seriously, what do I do this whole party? Run around like a madman. Cooking shit on the grille, setting up all these ridiculous games outside, then cleaning them all up. I never get to enjoy these parties, while everyone tells you how wonderful they are. I've been dreading this since the moment I woke up."
Stunned, his words hit me like a swift blow to the gut.
"Are you fucking serious?" I ask. "You decide to tell me this the morning of the freaking party, not over the past few weeks while I was planning."
He looks up, as our eyes meet.
Those green eyes tell me everything, a result of sixteen years together. I know he is down. He doesn't need to say another word, but instead he goes on.
"You seriously just don't get it. You are so fucking selfish. Look at the pictures from the past parties, Jac. Where am I? I think Maeve's party this year was the first one where I'm actually in photos, and that was just luck."
I am flabbergasted, confused, and mad
What can I say?
In three hours my house will be filled with friends and family.
In three hours I will be the happy hostess as we celebrate my Mo's fourth birthday.
In three hours my backyard will house a moon bounce.
In three hours Bry will be manning the grill.
In three hours we need to get our shit together.
What should I say?
What is the right thing to say in a moment like this?
I choose to say nothing.
"I've got to go add sand to the sandbox, and then set up the Walk the Plank. I just want you to realize how out of control this shit gets. I mean, really? Do you think anyone else does this crap? She's four not fourteen. She doesn't need half this shit. Seriously, it would be nice to not have to do anything." he finishes, leaving me in the kitchen with my thoughts.
The rest of the morning flies by in a blink as we respectively finish our to-do list just as our guests arrive at noon. The party goes on without a hitch, as our Pirates craft, eat, run, jump, fish, balance, and dig their little hearts out.
It is a success, but those words resonant through my brain even as the compliments start rolling in via texts, emails, and facebook status updates.
Am I selfish?
Am I out of control?
Am I ridiculous?
Yes. I am.
The problem with Bryan's argument however is that he thinks I should be upset by this, and over the course of the party, I realized that I am not.
I cannot be upset, because this crazy, out of control, ridiculous person I am with my children is genetic.
Don't believe me?
Consider the following evidence:
This is Mo, my brother, and my father at Moira's party.
Yes, my brother in eye liner and a wig, while my father is in the eye patch and my mom's white blouse.
This is who I am.
I am the daughter of the man who would stand in line for an hour at Busch Gardens so we could ride Alpine Geist.
I am the daughter of the woman who when I asked for a swimming cake for my birthday, figured out that using my trophies as swimmers, and lifesaver candies as lane lines would make a fairly good representation of a competition pool.
I am the sister to the man who dressed up as Buzz Lightyear for Halloween last year because he thought his third graders would enjoy it.
I am the sister to the woman who forgoes sleep to bake brownies for the nurse's birthday at the office where she is a pediatrician.
I am the woman who plans ridiculous, time consuming, over the top parties, because this is the only way I know how to do things.
It's in every fiber of me to get giddy over celebrations, to search for the perfect favors, to bake cupcakes and dip marshmallows in melted chocolate, to plan parties like this one.
This is who I am.
And I can't be sorry for that.
I can, however, realize that my out of control planning does affect the people around me, primarily Bry. He is right to extent, that I don't need to do all the activities I think.
Editing has never been my strong suit.
However, I did make sure this year that when it was time to sing Happy Birthday, Bryan was immediately at my side behind the birthday girl as she blew out her candles.
Our girl is four, her party was a success, and this year I realized that I don't have to do it all.
Hopefully I remember that in January when Maeve's third birthday comes around.
Linking up with
Shell
of Things I Can't Say
And because it's Wednesday, linking up with the best little Blog Link up around, Yeah Write #51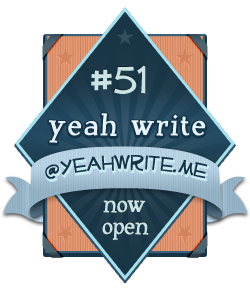 In conclusion, this post won me, from the Yeah Write Duchess herself,
Erica M
.