Who doesn't love babies?
Alison, author extraordinaire of
Mama Wants This
is eagerly expecting the arrival of her "Scrumplet". In anticipation of this little guy's arrival, three of my other favorite bloggers, Ado of
The Momalog
, Erika M of
Yeah Write
, and Stasha of
The Good Life
are hosting a virtual baby shower.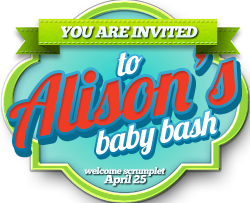 I apologize for my delay, since the date was yesterday, however my time with a certain Miss Maeve at her milk challenge prohibited me from linking up.
For Ado's Game:
Alison, welcome to the parenting world of siblings!
Alison's due date is May 9. I've always liked 7 so,
While she does strike me as a fit and petite woman, I'm still putting his weight
7lbs. 11 oz

. (

3.17514 kg)
and

21 inches

seems like the universal baby length (53.34 cm)
If I were to give Alison a gift, of course I'd send her the following, truly something Pinterest worthy and fabulous!
The fact that this gift was actually pinned by me makes it that much more special.
I'd send matching ones of these for Monkey & his baby brother
And of course, the Scrumplet could benefit from one of these:
And finally, since I do know Alison has a bit of a sweet tooth, I'd be sure she had a dozen of these:
Feel free to join in!